Services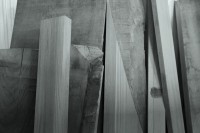 Nika specialises in bespoke interior furniture making, of which kitchen units, staircases and doors outline the production. The primary source material is solid wood generally originating from the Slovak controlled forestry. Other components include various wood veneers, varnishes and additional materials such as glass, metal, leather, plastic etc. To achieve the precision and the highest quality of craftsmanship the latest technologies and tools are being used and ecological and renewable resources are preferred.
First of all - thank you for putting your trust into our hands. We will make everything possible to make your dream kitchen, staircase or other wooden piece of art come true and fit seamlessly into your new or existing home.
The complexity of our bespoke furniture making is summed up in the following seven steps:
Survey

After an initial consultation during which we find out as much as possible about your desired piece of furniture, we will arrange a site visit. We will look at the proportion, functionality and size of your living space, we will carefully examine and take the exact measurements of the area where your future furniture should be fitted.

Professional advice

We talk again. Our clear communication together is a building stone and most importantly, it prevents any future misunderstandings. The importance of finding out every single detail about your vision is crucial for us. Then we realistically look at all the possible options, layouts, shapes and finishes. A summary of your planned furniture will be captured on paper.

Graphic design

Our designer will draw a detailed 3D image of your furniture according to the sourced information. Now you will be able to see with your own eyes how the design works with the space and you can play around with materials and finishing touches until your desired result has been achieved. If you had your furniture designed by someone else already, we will just make sure that the design is feasible within the measurements acquired.




Quotation

Although you will probably be given a rough idea of the cost already, only now we will be able to work out a precise quotation for you. This quote will be covering all the works involved from the design and production to delivery and fitting.

Production

Our experienced factory workers proceed with the manufacturing process. Out of their skilled hands your furniture will come to life. According to the extension of production works and availability of materials this time varies from a couple of weeks to a month or so. At this stage a more precise time schedule will be given to you.

Delivery & fitting

Now the long awaited moment has come for your freshly tailor-made furniture to be delivered and fitted. We will try to make sure that this process will be as fast and smooth as possible and will not disrupt your every day activities too much. The only thing that is left for you now, is to enjoy your furniture for many years to come.

Warranty

Our services do not end at the delivery. We fully cover our furniture with a two year warranty, in case of doors and stairs this is extended to five years.